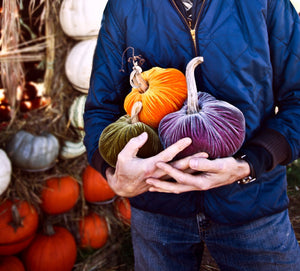 Capturing the tapestries of life through texture and form
"Great things are done by a series of small things brought together" -Vincent Van Gogh
Founder Monya Kampa established Plush Pumpkin from her St. Paul, Minnesota home in 2002. Born from a vision to create an elegant, one-of-a-kind autumn centerpiece, Monya hand-stitched her first pumpkin. With a swatch of velvet and the stem of an expired Halloween pumpkin, this spark of creativity broke ground for what would eventually become Plush Pumpkin. 
Soon after, Monya's designs found significant success in local boutiques in the Minneapolis and St. Paul independent markets, and in 2010 Plush Pumpkin debuted at the Dallas Trade Show. Hundreds of boutiques throughout the United States procured her designs for their upscale, artisanal home decor aesthetic. Recognition and popularity for Monya's skill and artistry rapidly expanded. Plush Pumpkin garnered the interest of some of the country's top luxury brand sales representatives, whose influence and exacting specifications have brought her endeavors to more significant public attention and positive reception from those with discerning taste.  
Woman-owned and women-run, the company's heartbeat is the self-made local artisans carefully handcrafting each piece to encapsulate its organic provenance. From the start, Plush Pumpkin's loyal, dedicated artists have shared a mutual vision of interpreting and preserving the pinnacle beauty of time and space. Each piece is a tactile redesign of nature's brief display of flora in its prime. Plush Pumpkin's seasonal collections have dedicated countless hours to inventing and perfecting the techniques and craftmanship used today. The construction of every design encompasses a creation process taking up to a year to master; each hand stitch has a function and exquisiteness in crafting every perfectly pleated velvet fold. Today the collection has expanded to include designer collaborations, textile variants, and as-of-yet-to-be-discovered nature's inspiration.
Made in the USA
We support local farmers
Family business
Women-owned & run business
Donation to local food shelves
Made with love
Meet the creator
Monya credits her artistry and inspiration to a time and place inherited from the stories and memories of those who came before her. Deeply connected to her Armenian roots, she absorbed her paternal grandparents' chronicles and love for Armenia.  Monya's grandparents, seeking refuge in the United States in the early 20th century as war besieged their homeland, held a profound nostalgia for their centuries-old Armenian traditions and culture.  Her Grandfather carried with him his passion of keeping his hands in the earth, continuing to grow gardens, and capturing his memories in paintings.  At the same time, Monya's Grandmother lovingly shared century old Armenian recipes as intimate memories that transcend the table. 
Growing up in New Jersey, creative expression was the heartbeat of Monya's childhood home.  Her late mother, Patricia, was her most extraordinary influence driving her talents into tangible expressions stating,
 "My mother was paramount to my creativity. Her talents were endless: she knit, sewed, beaded flowers, prepared gourmet meals, participated in community theater and hosted extravagant parties at home. Every holiday was brimming with crafts at the kitchen table for us while my mother prepared lavish meals for extended family and friends. She was always relishing the times of celebration and nuance. Although my mother was alive only to see the first fruits of my hobby, her legacy and existence continue with her initials 'Pp' embossed on the bottom of each creation."
Her mother's guidance still impels Monya's uncompromising standards. The values of integrity and genuineness to one's fundamental ideals are the pillars held firmly in her business practice and artistic sincerity. In tribute to her mother, the initials 'PP' is lovingly copied from her mother's handwriting, ensuring the authenticity of your Plush Pumpkin product.
Organic Origins
The unique characteristic that brings Plush Pumpkin to life is the organic addition of the stem. Plush Pumpkin works directly with local farms planting specific varieties of pumpkins, squash, and gourds yielding the most exciting stems. Every specially harvested stem is hand-picked, preserved, and individually chosen to perfectly adorn our pumpkins. We diligently research and acquire enough variety in our stems to ensure balance and proportion for each unique piece we create. Our production process utilizes recycled plastic material developed with precise weight specifications creating a tangible feel of luxury. 
Plush Pumpkin incorporates practices to reduce waste, and with the recent expansion to the line of our oversize velvet acorns, we keep that vow using the remnants of our textiles. The caps used in the design of our acorns are beautiful and atypical. Collected by hand from giant oak trees native to the United States, each acorn cap carries the history and mystery of hundreds of years from across the land.